About
Bushcraft Survival Australia (BSA) is an outdoor bushcraft survival school which is dedicated to teaching genuine and authentic traditional and modern outdoor living skills through carefully designed educational courses.
Our well structured courses and workshops are designed to span a range of specialist knowledge and skill sets, from the priorities of survival (first-aid, clothing, shelter, fire, location, water, food, navigation) to traditional and indigenous skill sets using natural resources. This is done while always respecting and learning from the insights provided from traditional wisdom.
We cater to suit all levels of experience: from the novice to the experienced outdoors-man, as well as campers, fisherman, hikers, travellers, hunters, 4WD enthusiasts, bushcraft and survival enthusiasts, as well as the young and the old. In fact, anyone with a passion for the outdoors and the natural world.
Survival
Primarily equipment focused and originally designed to teach our military personnel (in the shortest possible time) a variety of necessary skills to enable them to survive in a remote or hostile environment, long enough to be rescued or to get out of that emergency situation (usually 72 hours) and back to safety in the fastest way possible.
Realistic survival training is based around the priorities of survival and what to do in what order (first-aid, clothing, shelter, fire, location, water, food and navigation). Survival skills are important skills to know for anyone who spends time out in nature or any activity or work that takes them "off the beaten track".
Bushcraft
Focuses on maximum use of knowledge and skills with "minimal" reliance on equipment. Bushcraft is the parent subject that all survival training comes from and has a genuine direct relationship with the land and a deeper connection to nature.
Bushcraft draws from the knowledge and skills that traditional cultures across the world have used to survive and live comfortably in the wilderness for thousands of years and includes a variety of disciplines such as shelter-craft, fire-craft, botany, butchery, natural navigation, bind-craft, tool making,
The Difference
Bushcraft and survival overlap in terms of their desire for self-reliance but move away from each other in their desire for connection and relationship to the natural world. They both have two different ethical standpoints. In practise we can move from one to the other as they have very similar skill sets but ethically and philosophically bushcraft and survival are different. You will be taught a mix of both these perspectives from our small friendly team of well trained and passionate instructors who will ensure a rewarding and friendly learning environment. We provide an emphasis on teaching rather than just instruction. This provides the opportunity for real skill and knowledge acquisition and personal development.
The invaluable life skills you will learn on a Bushcraft Survival Australia course will help to instil self-confidence and help you to become more self-reliant
Real skills and personal development
You never know when you may be placed in a lost or stranded situation for which you have not planned or an urban emergency crisis that takes you out of your comfort zone. Many people do not consider 'what could go wrong' and are, therefore, unprepared both mentally and physically for such situations. This, in turn, can leave them poorly equipped to deal with a challenge of this type. The better prepared you are, the less affected and vulnerable you will feel.
Unfortunately a great number of people only see learning survival skills as something "they need to learn just in case something goes wrong" and don't realise that a lot of the skills learnt in survival training and bushcraft, are fun and interesting in their own right and instill a deep respect for the environment.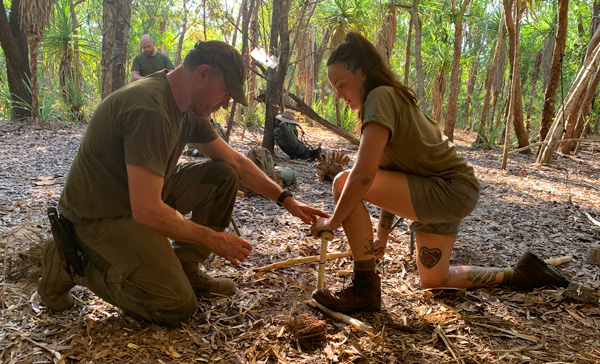 Lead by highly skilled, trained and experienced instructors, the teaching styles and methods used will keep you engaged and enthusiastic
Every year we will be looking to host one of these world renowned teachers as a guest instructor in Australia, teaching one of their programs or one of ours.